About Us
Titirangi Badminton Club was established in 1966 and is located in the beautiful Kowhai Reserve at 28 Withers Road, Glen Eden with plenty of free, off street parking available.
The hall has 4 courts, new LED court lighting, a mezzanine for great viewing of games, changing rooms with showers, toilets, office, 2 x kitchens along with a separate useable room being available for court hire users.
We run senior club nights every Tuesday and Thursday evening from 7pm to 10.45pm, hold annual Club Championships for members, as well as hosting and attending tournaments with other clubs and hosting open tournaments. We also have two Junior Clubs being available through NZBA and Zynergy Badminton, on Tuesdays and Thursdays - details here.
Our senior club nights have a great social atmosphere with many good and long lasting friendships having been made, along with offering great games and catering for all levels of players - we welcome you to be a part of that!
Meet our Committee!
President: Jody Bishop - A very keen and active badminton player and supporter, who works hard on many badminton committees both at Titirangi and Waitakere, with her main goal to get everyone at club to have fun, develop their game and participate in the many events and options our great sport of badminton offers!
Vice President: Natalie Toh - Natalie is one of our warm and determined players, who cheerfully helps the Committee with all our projects and actively focuses on the health & safety of our members and visitors.
Treasurer: Russell Fernandes - Our treasured Treasurer! Russell manages our club finances and manages to fit in some great badminton too.
Secretary: Roanne Pamplin - Dots the i's, crosses the t's and loves to play both doubles and mixed games.
Club Captain: Bruce Coventry - Bruce is our new Club Captain, and his larger than life personality adds a lot of fun to our Club nights!
Committee Member: Celia Wakely - Celia is another one of our outgoing players who is always willing to get stuck into any task and enjoys a good chat!
Committee Member: Amol Pradhan - Amol is one of our welcoming and friendly members who keeps our Club moving forward into the future.
Committee Member: Vineet Tandon - Loves playing any format of badminton and adds a bit of mischeviousness to his games!
Committe Member: Ramesh Kodla - New to Committee this year, Ramesh is always willing to help out - Welcome Ramesh.
Committee Member: Jacob Mathew - New to Committee this year, Jacob is a keen player and IT guru and has taken some of our great photos for our website - Welcome Jacob.
Jody Bishop
Natalie Toh
Russell Fernandes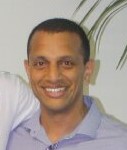 Roanne Pamplin
Amol Pradhan
Celia Wakely
Vineet Tandon
Ramesh Kodla